SIM News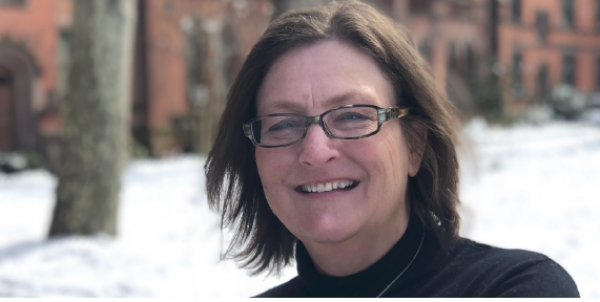 Interview With A Ministry Innovator
12/04/19
Jennifer Allen, General Theological Seminary '20
Jennifer shares how her multiple engagements in ministry prior to seminary have shaped her call to the priesthood and her imagination for ordained ministry. Jennifer was interviewed by Brian Sellers Peterson, SIM Senior Advisor and a leader in the sustainable agriculture movement within the Episcopal Church.
HOW DID YOU END UP AT GENERAL THEOLOGICAL SEMINARY?
I am a "Cradle Episcopalian." I felt a call to ordination before the Episcopal Church ordained women. I didn't feel brave enough at the time women started being ordained. I became involved in a variety of church ministries including youth work, also as a Vestry Member, Bread Minister, EfM Student, Lay Reader, Convocation Delegate, Eucharistic Visitor, Eucharistic Minister, Money Counter, Stephen Leader for Stephen Ministry, Usher, Altar Guild all at St. Michael and All Angels. I served as Church Camp Nurse, Church Camp Program Director for the Diocese of Kansas.
I have served as an Alternate Deputy to General Convention in 2015, a Deputy in 2018 (serving on the Social Justice & International Policy Legislative Committee). I served on the House of Deputy's Special Committee on Sexual Harassment and Exploitation and Episcopal Church Delegate to the UN Commission on the Status of Women.
I am a member of the Kansas 2 Kenya Steering Committee (a mission between the Diocese of Kansas and Kenya) and I have served on the community team to Kenya 6 of the last 8 years. This past summer, I served as a chaplain intern in Kenya at the Agatha Amani House Domestic Violence Shelter. I am currently serving as a Wisdom Year Seminarian Intern at the Cathedral of St. John the Divine's Congregation of St. Saviour.
Professionally I worked as a nurse in Home Health Nursing for 10 years. I then was a senior manager at Express Scripts, designing Medication Adherence Programs for patients on complex biopharmaceuticals.
I wasn't planning on New York City or General Theological Seminary (GTS). I had my bags and hammock packed to go to the School of Theology at Sewanee. During a visit to NYC to attend the UN Commission on the Status of Women, I visited Chelsea, figuring I would put a bow in at GTS and move to Sewanee. Wow, what a beautiful garden and campus in the middle of the city; I fell in love.
TALK ABOUT SOME OF THE INFLUENCES ON SEEKING ORDINATION.
What crystalized my call to ordained ministry and seminary has been my work with a small non-governmental organization (NGO) Agatha Amani House (AAH) in Kenya. My work has centered around organizing women's empowerment conferences. I have also been involved in helping start and build a residential center for battered women. One of the primary ways AAH helps battered women is through providing nutritious meals and helping them become food secure. This includes a demonstration and community garden along with instruction in Farming God's Way, which is similar to permaculture agriculture.
I had the blessing of being able to spend six weeks living in a community with the women of Agatha Amani House, a domestic violence shelter in Kenya. Some of the work that I did there was to support the completion of the practicum hours for Clinical Pastoral Education (arranged through the Seminary of the Southwest). I lived in the shelter and I heard the narratives of the women; praying and learning the hard practice of being present. Living at the shelter gave me the opportunity to greet each morning with the chickens and to learn to work the land for the food that we put on our table. Working the soil, turning the compost, weeding, reclaiming waterways-all of these things taught me about how working the land heals our broken hearts and souls. Often, I would provide pastoral care while sitting on a blanket a few feet from our calves, Cathleen and Cowdog. As I worked through the difficult stories that I heard, I found myself singing the Venite: "In his hand are the caverns of the earth, and the heights of the hills are his also." I'll never forget those moments in Kenya when the words of the Venite burst forth from my brokenness into the bright dawn of God's creation.
During each of my trips to Kenya, Nyakio Kaniu-Lake, the Founder and Executive Director of Agatha Amani House, has urged me to consider ordained ministry. Through my relationship with Nyakio and the overall experience of Kenya, I received a firm "smack on the side of my head." God has always been calling me. The other influence is my dad. He kept reminding me of that gentle urging that I experienced early in life. He helped me sort out the insistence of the call and the urging of family, friends and colleagues. He was always there during the moving toward and running away from. He helped me look at how pastoral care would be different from being a nurse and being a priest. He passed away before I took the plunge.
During this pilgrimage towards ordination, I have learned that church and community gardens can have an important and transforming impact on all who put their hands in the dirt. One conversation, in particular, stands out. While in Oxford, Mississippi I encountered a member of a local farmers coalition. She said that in her community agriculture work the coolest people she met were people from the local Episcopal Church because they were able to tie creation care and being a part of the community together with their faith. I want to be that person who helps bring people together around the table and garden.
WHAT ONE ASPECT OF PRIESTLY MINISTRY PULLS YOU TOWARDS ORDINATION, AFTER YEARS OF LAY LEADERSHIP?
What really brought me to considering priesthood is the role of a priest in reconciliation and absolution. There is so much brokenness in the world. Our world is hurting. Often times people think that brokenness means they are not welcome in church. So often the message the church communicates, intentionally or not, is that people are broken, and the church has the cure. The presence of God in my life and a deep connection to something outside myself, especially God's creation motivates me to serve the Church as a priest. That means going out and helping people find that relationship they are looking for. I love the people in our pews. Part of my role is motivating people inside the church to share God's love to those outside.
HOPES AND DREAMS FOR THE CHURCH IN KANSAS AND THE EPISCOPAL CHURCH.
We are shrinking in numbers but growing in how we engage civil society. Finding better ways to use our collective resources is key to our being a part of being of the larger community. How can we be smart about our resources to build programs to grow in discipleship and feed people? There is always going to be a place for people who want a traditional space for worship. But we need to look to doing new things. Take risks. We want change, but we don't want to do it ourselves. Our liturgy is rich and beautiful and part of our DNA, but we need to look for liturgy as it occurs in other ways. Great examples emerge from the communities of St. Isidore in Houston. Everything they do includes community, food and liturgy – everything from Warrior Church to Laundry Love to Kitchen Table Church and Taco Church to Youth Church gatherings.
WHAT IS WAITING FOR YOU IN KANSAS?
In the heart of Topeka, there are about three acres of lawn waiting for something new to happen. I envision a community garden and reclaimed prairie grasses; we are calling the project Bethany House and Garden. The house, which was built in 1875, will provide office space to organizations working with the homeless and trafficked in the surrounding community. My ministry will be to build a community of wild church and pastoral care, reaching out to those around us. My ministry will be a hybrid ministry: I will be growing a ministry around the community garden and prairie in Topeka, as well as serving at a local parish.
It is this powerful sense of healing and joining with creation - that I learned especially during my time in Kenya - that I hope to create in this version of the wild church in Topeka. It's basically a chance for people who have experienced pain, trauma, and brokenness to reconnect with the beauty of creation and the sense of God in their lives. In Kenya, I learned about what it meant to be the church without the building; working in the community, praying with one another, rejoicing and grieving. What a gift if we can learn to be the church without having the heavyweight of capital campaigns, utility bills, and building maintenance.