SIM News
HELP DESIGN A NEW CHURCH FOR A NEW WORLD
End 2020 by giving yourself an experience of connection, creativity, productivity and hope as we expand SIM's Circle of Discernment & Design.
We will be offering and then sharing recordings and recaps of six sessions over four months gathering Episcopalians, lay and ordained, with strong commitments to designing Episcopal faith communities of the future that are: Faithful Reflective Anti-Racist Mutual Contextual Innovative
The final quarter of 2020 is an opportune time to collect ourselves in fellowship, listen for the wisdom that is in our midst, and engage in some important meaning-making as a challenging year of disruption and strong emotions draws to a close.
If we take time to pool the yearnings, insights, and ideas that have come to the fore in this season we may discover we have everything we need to create faith communities that offer the safety, dignity, alliance and resilience all people need to thrive.
The format will begin with fishbowl conversations with thought-provoking leaders representing different sightlines on the church and society. The moderator will tee-up a self-awakening question for all participants, and we will break into small groups to exchange stories and listen deeply to each other talk about our hopes and challenges around the question in our midst. We will be posting all the session recordings from 9/14 – 12/7 as a "Wisdom Cloud" briefing to everyone who participated. We invite you to visit often, ask us your questions, share resource links with your colleagues and fellow believers, and draw strength and support from being a part of the community of faith that is The Society for the Increase of the Ministry.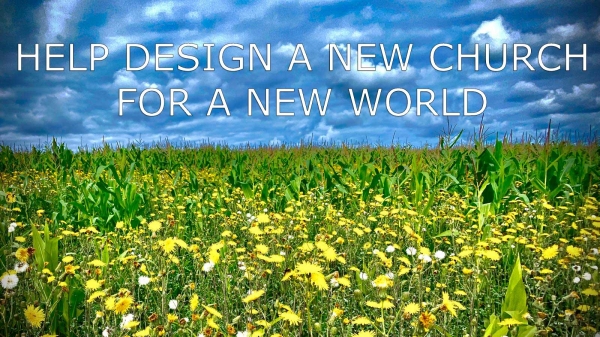 Change a Life, Change The World

11/10/21

Salmoon Bashir on the impact of a SIM Scholarship

---

What Will It Take for the Episcopal Church to Become an Anti-Racist Organization?

09/29/20

Welcome to the second in a series of web meetings to HELP DESIGN A NEW CHURCH FOR A NEW WORLD, in our Circle of Discernment & Design.

Multiple sessions over four months gathering Episcopalians, lay and ordained, with strong commitments to designing Episcopal faith communities of the future that are: Faithful - Reflective - Anti-Racist - Mutual - Contextual - Innovative

Today's title is What Will It Take for the Episcopal Church to Become an Anti-Racist Organization?

---

How Do Faith Communities Benefit from Becoming More Reflective?

09/14/20

The first in a series of web meetings to HELP DESIGN A NEW CHURCH FOR A NEW WORLD, in our Circle of Discernment & Design

Multiple sessions over four months gathering Episcopalians, lay and ordained, with strong commitments to designing Episcopal faith communities of the future that are: Faithful Reflective Anti-Racist Mutual Contextual Innovative

Today's title is How Do Faith Communities Benefit from Becoming More Reflective?

---

A Conversation on Food and Faith with Darriel Harris

07/07/20

We were so grateful to host an online conversation yesterday with Darriel Harris from the Johns Hopkins University Center for a Livable Future where he has served as manager of the Baltimore Food and Faith Project.

Darriel is also a founding member of the Black Church Food Security Network, pastor of Newborn Community of Faith Church, and farmer. He is a Ph.D. candidate in the JHU Department of Health Behavior and Society. His research interests are in faith-based health communications, neighborhood-related health factors, social determinants of health, and community-based participatory research. Watch a video of Darriel giving a Christian perspective on Food HERE.

Watch the Full Webinar Recording: YOUTUBE

Listen to the PodCast: SOUNDCLOUD

---

A Conversation about Food Justice

06/23/20

Robert Two Bulls and Ritchie Robertson Two Bulls from All Saints Indian Mission and First Nations Kitchen near Little Earth of United Tribes community in South Minneapolis joined us for today's conversation. The mission is adjacent to the neighborhood where George Floyd was murdered and blocks away from the 3rd Precinct the site of the protests and riots.

As part of our continuing series of webinars on food access and sustainable food systems for all, this webinar/web meeting focused on Food Justice and how issues of access, sovereignty, and racism impact our lives. Particularly during this time of stress as we confront the pernicious impact societal and systemic racism.

Robert is the vicar of All Saints along with serving as Missioner of Indian Work & Multicultural Ministries with the Episcopal Church in Minnesota. Ritchie is a Registered Art Therapist and has worked for almost ten years at the Minnesota Indian Women's Resource Center with Native Women in recovery. Because of COVID19 the program has been closed.

Watch the Full Webinar Recording: YOUTUBE

Listen to the PodCast: SOUNDCLOUD

Resources and Links Mentioned in Webinar:

The Hook and Ladder Theater and Lounge

NY Times Article about Ghandi Mahal

Robert is the vicar of All Saints along with serving as Missioner of Indian Work & Multicultural Ministries with the Episcopal Church in Minnesota. Ritchie is a Registered Art Therapist and has worked for almost ten years at the Minnesota Indian Women's Resource Center with Native Women in recovery. Because of COVID19 the program has been closed.

---

Opening Conversations about the Legacy of Race Today

06/12/20

The entire nation is now focused on questions of race, history, and justice, creating a moment for faith leaders that is both rich with opportunity and fraught with uncertainty. How do we open authentic conversations about race? How do we ground those conversations in the 400 year legacy of race in America, rather than just a snapshot of the present moment? How do we create spaces of genuine connection and deep listening? Join us for an experiential workshop with Constance and Dain Perry, who have worked with hundreds of congregations and community organizations across the country to do just that. The workshop will model their facilitation techniques and a sample first conversation that draws people from their heads, into their hearts, and invites authentic sharing of personal experience. This will be followed by an open period of question and answer designed to help attendees learn and adapt approaches to their own communities to open conversations about the legacy of race today.

Watch the Full Webinar Recording: YOUTUBE

Listen to the PodCast: SOUNDCLOUD

Resources Mentioned in the Webinar:

Traces of the Trade Website: http://www.tracesofthetrade.org/buy-use-the-film/

Scaffolding of anti-racism resources and education that can be used to meet white people at different current levels of understanding and move them deeper, depending on where they are starting: https://docs.google.com/document/d/1PrAq4iBNb4nVIcTsLcNlW8zjaQXBLkWayL8EaPlh0bc/preview?fbclid=IwAR0plAvlINUTxsFXNcm4mJrjr9FU13rAthkwGdSlRiwZkHgUkSn-SUwCWfE&pru=AAABcpq8c14%2AC_JncXmFmMjf8og2gUGURA

Episcopal Church guidance on organizing dialog: https://episcopalchurch.org/sacred-ground/organizing-dialogue-circle

---

Outdoor Worship

06/09/20

There are countless examples of outdoor worship from the Sermon on the Mount to a growing number of churches like Church in the Woods in Canterbury, NH, Salal + Cedar in Vancouver British Columbia, and Abundant Table Farm Church in Ventura, California. Many, if not most, of our congregations, hold outdoor worship services during the summer or for special celebrations. During COVID we are gathering on-line and open to new ways of gathering for worship. Yesterday's meeting was inspiring and many thanks are due to The Rt. Rev. Brian Lee Cole and Rev. Anna Woofenden for sharing their experience and wisdom.

Watch the Full Webinar Recording: YOUTUBE

Listen to the PodCast: SOUNDCLOUD

Resources Mentioned in Webinar:

Anna's podcast: https://www.foodandfaithpodcast.org/

Scripture, Culture and Agriculture:An Agrarian Reading of the Bible by Ellen Davis

https://episcopalchurch.org/good-news-gardens

Facebook group to network with others involved in the garden, farm, and food ministries: https://www.facebook.com/groups/2564507933827285/
https://christianfoodmovement.org/

---

---

Agrarian Ministry

05/06/20

A conversation about addressing food shortages and hunger during the COVID-19 pandemic.

SIM continues our series interviewing adaptive leaders across the church responding to human need in the wake of COVID-19. Next week: Could those of us who know nothing about cultivating food adapt and join a new Victory Garden movement?

During World War I and II, Americans were encouraged to plant Victory Gardens as the nation faced potential food shortages. During World War II an estimated 40 percent of the nation's supply of fresh vegetables was produced in back yards, front yards, school grounds, and church property. Between increased joblessness, disruptions to the food supply, and the potential of a second wave of the virus this fall, many anticipate a food crisis next winter.

---

What is Corona Trying to Teach Us?

04/10/20

Today the Good Men Project published this blog by Episcopalian, Mark Grayson on the crisis leadership insights of SIM Director, Dr. Courtney Cowart. To access more SIM Leadership Resources for Covid-19 and click the Read More link below.

On this Good Friday, We pray you and your loved ones are safe, healthy, and surrounded by a community of prayer. Please be wise about social distance through Holy Week and in the weeks and months to come.

God bless.

---

Coffee with Courtney and Hilary - What is Corona Trying to Teach Us?

03/31/20

Hilary Greer interviews SIM Executive Director, Courtney Cowart, about what she has learned leading faith communities through adaptive change when our worlds are plunged into chaos.

Watch the first program: YOUTUBE

Listen to the PodCast: SOUNDCLOUD

Follow us and subscribe on all our platforms as we produce reguar updates:---- FACEBOOK ---- INSTAGRAM

---

Local Formation

12/05/19

Missional Practice, Beloved Community, Sustainable Pedagogy – Reflection on Two Convenings of Uncharted

By The Rev. Susan Daughtry, Missioner For Formation In The Episcopal Church In Minnesota (Ecmn)

"If you want to build a ship, don't drum up the women and men to gather wood, divide the work and give orders. Instead, teach them to yearn for the vast and endless sea." -Antoine de Saint-Exupéry

---