About SIM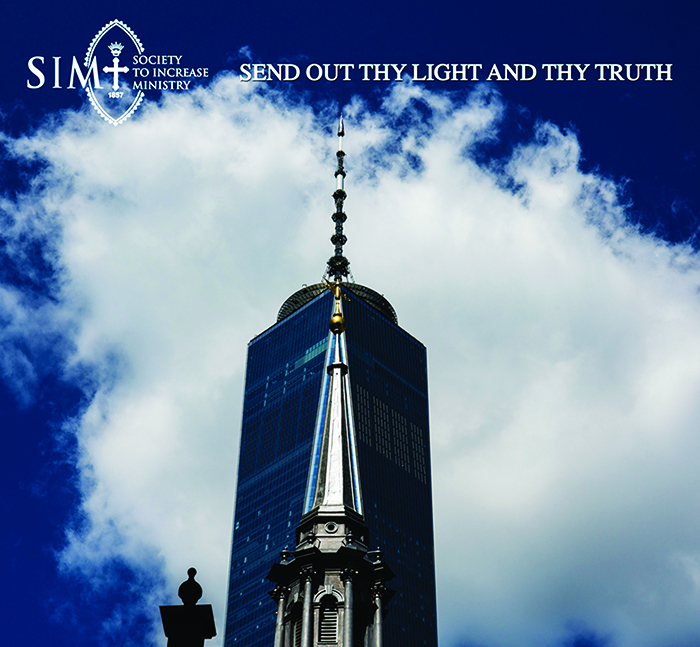 The Society for the Increase of the Ministry (SIM) is an independent non-profit 501C(3), established in 1857 to identify future ordained leadership and develop their gifts through merit-based and need-based educational scholarships. Since the founding of Sim Ministry in Hartford, Connecticut, it has supported over 5000 seminarians. SIM is the only organization raising funds nationally for all Episcopal Church students, regardless of the seminary they choose. Headquartered in Manhattan, SIM's mission is to bridge the estimated $6 million annual gap in theological Episcopal education funding so that newly ordained leaders will be more free to accept calls into socially and financially marginalized communities where ministry is most needed.
As our founders believed in 1857, so we believe today, that the world needs an increase, not a decrease, in ministries that promote justice, compassion, reconciliation and peace. Please join our society in SIM's centuries-old prayer to God, engraved upon our seal, "Send Out Thy Light and Thy Truth," and be a part of a multi-generational effort that by God's grace illuminates the world in ways that truly matter.
Executive Director, Courtney Cowart, Th.D.
Dr. Cowart is a scholar in the fields of ascetical theology and American Church history whose work has explored the relationship of spiritual practice and leadership. She holds both an M.A. and a Th.D. from The General Theological Seminary in New York. Immediately prior to becoming Executive Director of SIM she served as Associate Dean and Director of the Beecken Center at the School of Theology, University of the South, in Sewanee, TN. There Courtney gathered and created cutting-edge formation resources from across the church to create a hub of continuing theological education and training for all the baptized.
On the morning of Sept. 11, 2001, in her role as program officer for spiritual formation and development grants at Trinity Church Wall Street in New York City, Cowart hosted the Archbishop of Canterbury, and a group of spiritual formation practitioners, for the filming of a Lenten series: The Shaping of Holy Lives. The events of the morning and their impact on Cowart's ministries, first as a founder of the 24/7 respite center to recovery workers at St Paul's Chapel immediately following 9/11, and four years later as founding co-director of the office of disaster response for the Episcopal Diocese of Louisiana following Hurricane Katrina, are vividly chronicled in her book published in 2008, An American Awakening: From 9/11 to Katrina the People We Are Free To Be.
In 2010, Cowart left New Orleans to become Director of Congregational Learning for The Fund for Theological Education in Atlanta. At FTE she developed and taught congregations shared practices for shaping the next generation of Christian leadership. These practices, informed by her experiences of ministry innovation and evangelism in the context of catastrophe, equip persons of faith to generate communities of safety, dignity, alliance, and resilience. She views the regeneration of these essentials for human thriving as central to the work of the church and its leadership, as Christians struggle against institutions and social norms that perpetuate violence and domination, and seek to establish contrasting ones supporting non-violence and peace.
In her role at Sim Ministry, Dr. Cowart, is applying her varied background in theological education, program and curricula development, and building leadership capacity for the church, to the opportunity of expanding and strengthening The Society for the Increase of the Ministry's mission. She believes through artful recruitment of outstanding leaders and funding of scholarships for theological training and Episcopal education, we can transform the leadership of the Episcopal Church, making it more faithful, innovative, culturally diverse, outwardly engaged.
Board members
The Rev, Hilary Greer, Chair
David Hilder, Treasurer
Constance Perry, Board Secretary and Chair, Scholarships Committee
The Rev. Donald Hamer
The Rev. Linda Spires
The Rev. Jay Sidebotham, founder, RenewalWorks
The Rt. Rev. Brian Cole, Bishop, Episcopal Diocese of East Tennessee