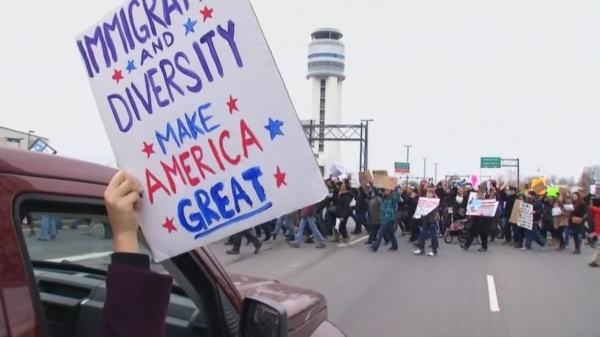 Faith leaders in Columbus call for repeal of travel ban
03/07/17
COLUMBUS, OHIO — President Donald Trump said the new 90-day travel ban on six Muslim majority countries will help keep the country safe from terrorist attacks.
But the executive order released Monday has central Ohio clergy speaking out and calling for a repeal.
"To make a Muslim ban no matter how many countries you add or delete is still a Muslim ban," said Reverend Tim Ahrens of the First Congregational Church.
But Republican State Representative Andrew Brenner said that while he respects the faith leaders' position, he does not think the order is a "Muslim ban." Brenner said President Trump's new order is well crafted and fine-tuned.
"This is after all to protect the citizens of the United States and this is a short-term temporary ban."
The initial ban caused a huge outcry in Columbus and across the nation. Jennifer Nimer of the Council of Islamic Relations (CAIR) said the changes that were made were basically changes that they had to make because the administration was backed into a corner by the various lawsuits that were filed.
"Make no mistake about it the discriminatory intent is still there. There is no reliable predictor of someone becoming radical or someone becoming a terrorist based on what country they are from," said Nimer.
Faith leaders called for an immediate repeal of the order and said religious freedom must be protected. Rabbi Misha Zinkow of Temple Israel said in the Jewish faith you are taught to love and welcome strangers.
"You should love him as yourself. You were strangers in the land of Egypt. This was repeated 36 times in the Torah, more than any other commandment."
The clergy said they will not stop trying to get the administration to see their views.
"While we are ever vigilant on this and we want others to stay vigilant," said Reverend Rick Burnett of the Trinity Episcopal Church, which hosted the event. "I fear that there could be a drip, drip, drip of crazy stuff that renders us immune after a while."
The inter-faith group called for an immediate repeal of the new travel ban and representatives said we should be a "beacon of hope" for refugees fleeing persecution and violence.
Return