Board Members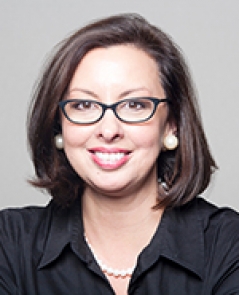 Courtney Cowart, Ph. D., Chair
Sewanee, TN
Associate Dean and Director of The Beecken Center, The School of Theology of The University of the South Dr. Cowart received her Masters of Theology and Doctorate of Theology from The General Theological Seminary in New York City. Her background as a theological educator includes programmatic leadership with Trinity Grants in New York, establishment of the post­Katrina Office of Disaster Response for the Diocese of Louisiana with a $10 million grant from Episcopal Relief and Development, and, with The Fund for Theological Education, leadership training of eight denominations in VocationCARE, an innovative framework of spiritual and social process practices to foster congregational growth. She authored Frontiers in Faith, a white paper commissioned by the Lilly Endowment to inform their future funding strategies to recruit the next generation of young church leaders. Her authorship of An American Awakening: From Ground Zero to Katrina the People We Are Free to Be promoted the theological values of anti­racism. At Sewanee, which developed and has housed the worldwide ministry of Education for Ministry (EFM) for forty years, Dr. Cowart has expanded The School of Theology Beecken Center to support a new generation of training initiatives for Episcopal leadership. The resources at Sewanee and its network of relationships throughout the Anglican Communion and with other potential partners are assets supporting The Beecken Center's mission and vision of training of leaders who will shape the future of the Episcopal Church in faithful and innovative ways.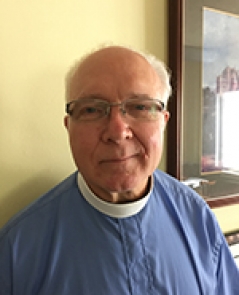 Reverend Don Hamer, Secretary, Chair, Scholarship Committee
Hartford, CT
The Rev. Donald L. Hamer has served as Rector of Trinity Episcopal Church since 2004. A graduate of The Berkeley Divinity School at Yale with an M.Div. degree, he previously served as Associate Rector of St. Mary's Episcopal Church in Manchester, CT following his ordination to the diaconate in June 2000. He holds a A.B. Degree in Government (Urban Affairs) from Georgetown University College of Arts and Sciences, and a J.D. from The Georgetown University Law Center. Prior to ordination Don was a member of the law firm of Brown, Paindiris & Scott, LLP. His public service includes serving on the Glastonbury Board of Education from 1987 – 1991 and service as the Judge of Probate for the District of Glastonbury from 1990 – 2004, serving as President of the Connecticut Probate Assembly prior to his retirement.

While Rector of Trinity he has served as Chairman of the Board of the Farmington-Asylum Business District, Chairman of the Board of the Conference of Churches, and President of the Board of Trustees of the George Beach Apartments. He also serves as an ex officio member of the Board of Trustees of Trinity Academy and The Choir School of Hartford, both associated ministries of Trinity Church. He also serves on the Program and Budget Committee of the Episcopal Church in Connecticut. He and his wife Debbie have two adult children and reside in Hartford, Connecticut.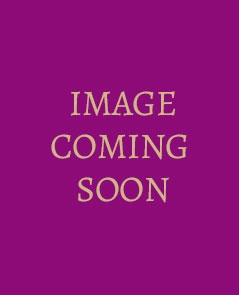 Reverend Hilary Greer, Vice Chair
Coming Soon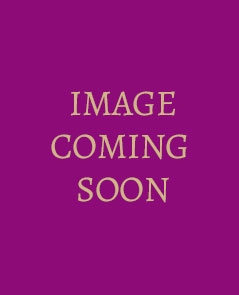 Reverend Stephen Holton, Treasurer
Coming Soon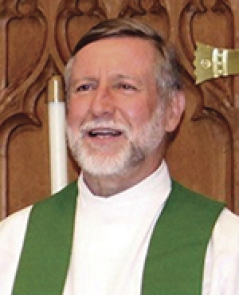 The Rev. Dr. W. Alfred Tisdale
Stonington, CT
The Rev. Alfred Tisdale is an Episcopal Priest who currently serves as Rector of Calvary Episcopal Church in Stonington, CT. Prior to this, he was "Associate Dean / Director of Anglican Studies & Formation" at Berkeley Divinity School at Yale University. In addition to teaching courses in the practice of Christian Ministry, he was also a mentor and pastor to the Episcopal Seminarians.
Before his ordination as an Episcopal Priest, Alfred was for many years a Presbyterian Minister. He served pastorates in Richmond, VA as well as Cranbury, NJ and as Sr. Pastor of the historic Basking Ridge, NJ congregation. Alfred is married to The Rev. Dr. Nora Tubbs Tisdale, who is Professor of Homiletics at Yale Divinity School. Nora and Alfred early on were missionaries in South Korea where they taught in a Presbyterian Seminary, and later served together as pastors of an ecumenical cluster of churches in Virginia. Dr. Tisdale is a graduate of Union Theological Seminary with a further graduate degree from The General Theological Seminary in New York City. Along the way, he has also served a shorter assignment as a Hospice Chaplain, and as a Spiritual Director in Princeton, NJ. In undergraduate school, Alfred was a physics and math major for most of his college career before finally also majoring in religion.

The Tisdale's have two children—Leonora, who is a nurse in Chapel Hill, NC and William who is a professor at MIT teaching in the field of "Nano-technology." Their two grand-daughters, 4 & 6 years old, live with their parents outside of Boston and are the joy of life for Alfred & Nora… they all love gathering in Stonington for boating on Long Island Sound. The Tisdales indeed feel very blessed!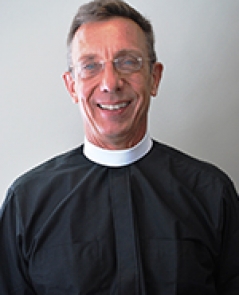 The Rev. Jay Sidebotham
Wilmington, NC
The Rev. Jay Sidebotham serves as director of RenewalWorks, a ministry of Forward Movement, and also serves as an associate rector at St. James' Parish in Wilmington, NC. Jay has served in parishes in Lake Forest, Illinois; New York City; Durham, NC; Washington, DC and Providence, R.I. Prior to study at Union Seminary in NY, where he received his M.Div, he worked in New York in the fields of animation, illustration, and advertising. (Some would say he is still working in advertising!) He is grateful not only for the opportunity that parish work affords to continue expressing himself through his drawing, but also for the abundant supply of cartoon material that emerges in parish life.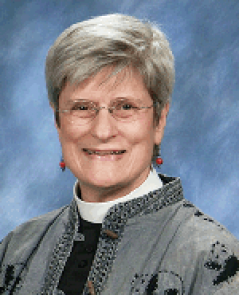 The Rev. Linda M. Spiers
Canton, CT
Linda is currently Rector of Trinity Episcopal Church, Collinsville, CT, and served at Christ Church Cathedral, Hartford, prior to Trinity. Her education includes the following: BS in Mathematics from Mary Washington College; MBA from University of Richmond; MDiv Berkeley Divinity School; and is currently enrolled in the DMin program at Hartford Seminary, Hartford. She is currently a member of the Diocesan Title IV Disciplinary Board, Diocesan Priest-in-Charge Mentor for two priests-in-charge, member and Secretary for the Christ Church Cathedral Chapter, Deputy to General Convention and chair of the deputation, Chaplain to the St. Barnabas Guild of Nurses, member of Focus on Canton, member of the Canton Housing Authority Board, member of Heads Up! Hartford Board, and member of Canton Connections Board.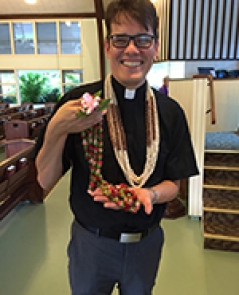 The Rev. Moki Hino
Hilo, HI
The Rev. Moki Hino is Rector of The Church of the Holy Apostles, the only Episcopal Church in the town of Hilo, Hawaii.
Father Hino was born and raised in Micronesia, on the island of Guam, and received his Bachelor of Education from the University of Hawaii in 1988.he worked as an elementary school teacher in Hawaii, Japan, and Guam before entering Seabury-Western Theological Seminary in 2002.
Father Hino is a committed alumni of The Society for the Increase of the Ministry and the first recipient of the Cunningham Memorial Scholarship. Prior to his current cure, Father Hino served as Canon Pastor at the Cathedral of Saint Andrew in Honolulu, chaplain and fourth grade teacher at St. Andrews Priory School for Girls in Honolulu, and chaplain at Seabury Hall in Makawao, Maui.
Father Hino is President of the Standing Committee in the Diocese of Hawaii, and Secretary of the diocesan convention. He also served on the Design Team for the Episcopal Youth Event in 2008 and currently sits on the Standing Commission for Lifelong Formation and Christian Education.
In reflecting upon the mission and ministry of The Society for the Increase of the Ministry Father Hino said, "SIM is a worthy cause that made a difference in my life and now I want to do everything I can to help make a difference in the lives of those who answer God's call to serve the church through ordained ministry."
Honorary Board Members
The Most Rev. Michael Curry, Presiding Bishop
New York, NY
The Rt. Rev. Ian T. Douglas, Bishop of Connecticut
Meriden, CT