Blog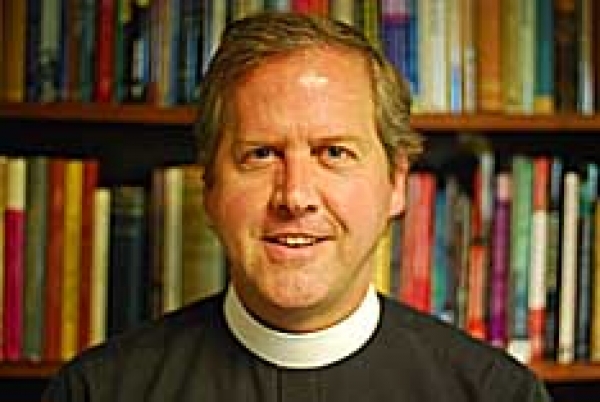 The Bible Challenge
02/17/17
Our new Alumni Profile web page will focus on the ROI (Return on Investment) of our history of adhering to SIM's 1857 founding purpose to "find and aid suitable persons for the Episcopal ministry".
While SIM proudly claims:
over 5000 seminarians have received SIM scholarships since 1857;
over $6 million in SIM grants have been granted;
over 2750 SIM alumni are living today; and
almost 30% of current diocesan bishops received at least one SIM scholarship,
we have not focused on the ways individual SIM alumni have "increased the ministry" of The Episcopal Church. Our first alumni profile focuses on the entrepreneurship of the Reverend Marek Zabriskie, an investment proven to support a most "suitable person" to "increase the ministry" of The Episcopal Church.
The Bible Challenge
Sitting down by the fireside and reading a colleague's newsletter on Christmas Day 2011, the Rev. Marek Zabriskie was astounded to read that a fellow rector was inviting members of his church to join him in reading the entire Bible in a year.
Though exhausted after leading five large Christmas Eve and Christmas Day services, he decided that a discipline of reading the entire Bible in a year would be the perfect challenge for him for 2012. "I made a spiritual New Year's resolution to do it," said Zabriskie. He structured a plan to read the entire Bible by reading three chapters of the Old Testament, one Psalm and one chapter of the New Testament each day, omitting Sundays for attending church.
It took only five days of his discipline to inspire him to send personal email invitations to many of the 1,400 members of his church, St. Thomas Episcopal Church in Fort Washington, Pennsylvania, and invite them to join him. "I had never thought of inviting my parish to do that," said Zabriskie. Zabriskie named his program, The Bible Challenge, and invited friends beyond the parish. "I expected 15 folks at the most to join me and was astonished when over 180 parishioners and more than 90 friends from beyond our church committed to participate."
The ministry had a transformative impact on his church and other partakers. Zabriskie felt called to share The Bible Challenge with other churches. He created the Center for Biblical Studies and recruited Church leaders from around the world to serve on the Advisory Board, including the Archbishop of Canterbury. The Bible Challenge quickly caught on in other churches. A guide with contributions from significant church leaders was published. Today over 35 bishops are leading their dioceses in The Bible Challenge and over 2,000 churches in 40 countries have committed to participate in this transformative ministry.

"Our ultimate goal is to help individuals develop a life-long spiritual discipline of daily Scripture reading which will transform their lives and faith," says Zabriskie, "and to help transform churches and dioceses from communities which are often biblically illiterate to communities that are producing contagious Christians who know their Bible and gain comfort, strength and wisdom from a daily prayerful reading that inspires their lives and ministries and leads them to live and share their faith with others."
---
The Rev. Marek Zabriskie is a SIM alumnus, loyal SIM supporter and enthusiastic promoter of SIM's philosophy of investing in future ordained leaders. Alumni are encouraged to join Marek and many others in the SIM family to make a difference in financing the education, formation and training of seminarians, future ordained leaders of The Episcopal Church. SIM is the only organization raising funds on a national basis for support available to all Episcopal seminarians.
Return